Kyle Eason writes, directs and hosts "The Kick" – a 15 minute Talk Show on the Inception Integrated Marketing Channel that features industry leaders and their "kick" – an idea with special magic that inspires and awakens.
Episode 9 of The Kick! features a conversation with a dynamic innovator in Colorado named Jake Rishavy. We talked with Jake up on the amazing rooftop location above Battery 621 during a beautiful Denver, Colorado happy hour with the city skyline glistening in the background. Jake shared his experienced perspective on the Colorado Collaborative scene and how he's having a unique impact on innovation from his position as Director of Innovation and Entrepreneurship at the Denver South Economic Development Partnership headquartered south of Denver in Englewood. From white water Colorado river guide, to entrepreneur to regional leader in innovation, you don't want to Miss Jake Rishavy on The Kick! Talk Show with Kyle Eason.
See http://denversouthedp.org for more on what is happening at the Denver South Economic Development Partnership.
Please Subscribe, Like, and Share.
Thanks to Tom Hoch, Jr. and milehighhouse Productions for camera, editing and production assistance. www.milehighhouse.com
Thanks, also, to the community at Battery 621, www.battery621.com
#TheKickTalkShow
More The Kick! episodes here: https://inceptionim.com/
More Kyle Eason: http://kyleeason.strikingly.com/
More Inception Integrated Marketing at www.inceptionim.com
More Kyle Eason on LinkedIn: https://www.linkedin.com/in/kyleeason
More Kyle Eason on Twitter: https://twitter.com/eason_kyle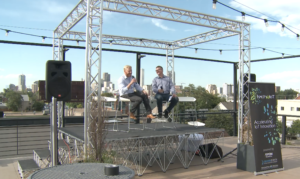 More milehighhouse productions at http://www.milehighhouse.com
More milehighhouse on Vimeo: https://vimeo.com/milehighhouse
More milehighhouse on Facebook: https://www.facebook.com/mhhpdenver/